Chemicals Betonamit
Betonamit is perfect for indoor and
outdoor demoltion projects including:
Bridges
Dams
Machinery bases
Boulders
Ledge
Concrete Piers
Slabs 6″ thick or more
Limestone
Granite
• No licenses or permits required
• Three-year shelf life
• One product for all temperatures
• Always wear safety goggles when using Betonamit!
• Read instruction manual before use!
These instructions are essential for safe and effective use of Betonamit.
Temperature Chart Rock or Concrete Temp
       Water Temp(F)
       Hole Size
25 to 40 F
       110 F max
       1-1/2″ dia.
41 to 57 F
       85 F max
       1-1/2″ or 1-3/8″ dia.
58 to 72 F
       65 F max
1-1/4″, 1-3/8″, or 1-1/2″ dia.
73 to 80 F
       40 F max.(iced)
       1-1/4″ or 1-3/8″ dia.
81 to 95 F
       33 F max.(iced)
       1-1/4″ dia.
When rock or concrete is above 73 F, add 5 ounces of extra water per 5 kilo container, 33(iced).
Halve this amount when using Type S in 2-1/2 kilo containers.
Over 95 F cool holes with cold water, then blow out before installing Betonamit.
Notes:
1. Hole temperature can often be reduced by waiting until late night or early morning.
2. When rock or concrete is above 65oF, keep the Betonamit as cool as possible before use.
3. When rock or concrete is above 85oF, store Betonamit in a cooler with ice or in a refrigerator before use.
4. When rock or concrete is above 73oF, do not mix more than one 5 kilo container at a time.
5. Measure the rock or concrete temperature – DON'T GUESS! Tie a string onto the thermometer and lower it into the drill hole.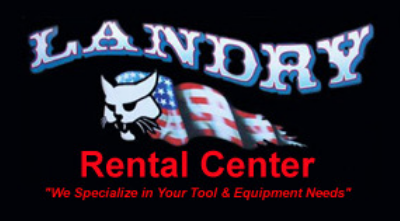 Landry Rental Center has all your Forestry needs covered. Forrestry equipment such as Tree Cutters, Tree Shredders, Tree grinders, Shears and Tree planters.
For Forrestry ground clearing Landry has, Brush cutter as well as Rock Rake, Skid Steer mounted stump grimder as well as hand powered stump grinder.
Landry Rental has a Gas operated Stump Grinder as well as a skid steer mounted stump grinder.
Grinding stumps has never been easier.
A Brush cutter for all types of brush. Brush cutter for skid steer for the thick ground cover and gas powered brush cuuters for the home.
wood chippers are also a popular forestry item along with our portable log splitters.
Just in, we have the Rotadairon now listed under our Bobcat attachments page.